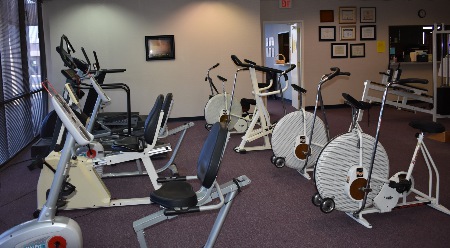 Welcome to COOPER & BUSH PHYSICAL THERAPY. The mission of COOPER & BUSH PHYSICAL THERAPY is to help people in need, or who potentially might be in need of physical rehabilitation to achieve a functional level in their normal activities of daily living by therapeutic and preventative measures.

Thank you for allowing us to serve you.

COOPER & BUSH PHYSICAL THERAPY is a source of outpatient medical rehabilitation services for area residents, their families, and their physicians. The clinic was opened in February 1995 by Jeffrey Cooper and Warren Bush II, both Licensed Physical Therapists.

Since January 2014, the clinic is privately owned by W. Van Bush PT DPT.

Many injuries are preventable, but once the injury is sustained, proper rehabilitation techniques are needed to enable the injured person to return to his or her previous level of activity and lifestyle as quickly and safely as possible.

A physician always orders and will supervise the treatment plan. Our goal is to enable patients to reach the highest level of functioning possible.

During the initial appointment, the patient will participate in a comprehensive evaluation by a licensed physical or occupational therapist. Using information obtained from this evaluation, a plan will be developed for individualized treatment and rehabilitation. The plan will specify goals to be attained and the services necessary to help achieve these goals.

Future appointments tend to last about 45 - 60 minutes, depending on the type of treatment for which the patient was referred. The treatment program developed and individual treatment sessions are usually scheduled two or three times weekly.

The therapist is responsible for assigning specific activities and classes. Treatment sessions are directly supervised by a Licensed Physical Therapist or Licensed Physical Therapist Assistant.

The business office will determine, with the patient, what times are available for appointments. If the patient is unable to keep an appointment, we ask that a 24-hour notice of cancel be provided. Failure to attend scheduled appointments, or notify us of cancellations in advance of the scheduled time, may result in dismissal from the program.

Thank you for visiting our Internet site. If you are not familiar with our company and your first contact with us is online, we would be pleased to hear from you! Please let us know what your needs and questions are. We want to give you the opportunity to stay in touch with our company and your therapist.

You can contact us at our email address: cooperbushpt@sbcglobal.net. In addition, you can reach us at 817 731 9331 and by fax at 817 731 9882.

We are looking forward to hearing from you.